Acanthus mollis 'Hollard's Gold' - Bear's Breeches variety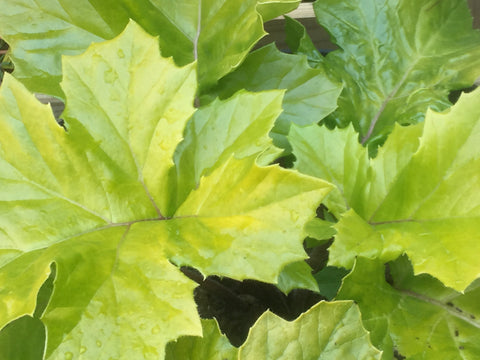 Flowers attract bees

Plant for chalk soil

Plant for shade
A robust perennial with handsome, glossy, lobed foliage which emerges in shades of yellow in spring, fading to pale yellow-green by summer. Tall spikes of white and burgundy lipped flowers appear in summer. New growth in autumn also has conspicuous yellow tints.
Prefers a good garden soil in partial shade which will give the best leaf colour. Once planted do not disturb. Will sucker if roots are damaged. Mulch well in the first winter as it can be less hardy than the species.
Height: 24 - 48 inches / 60 - 120cm                    
Spread: 24 - 48 inches / 60 - 120cm
Contact Us For Availability
This plant is currently out of stock. Please contact us for details of when we expect to have more available.
Delivery Options
Our web shop is now open for you to browse and make your selection from. We only send plants out Monday (not Bank Holidays) to Wednesday. This is to avoid packages being left in the postage system over the weekend. Shipping plants and keeping them healthy along the process is an intricate matter. As we care for the plants we sell we deliver them in a way that ensures they have enough to drink and enough protection between our nursery and your home.
Courier Service

Typically sent out via Royal Mail's First Class signed for delivery service or United Parcels Service (UPS) next day delivery. Postage charges depend on the total weight of plants you buy, see full details here: Read ›

0kg - 0.29kg - £2

0.3kg - 1kg - £3.50

1.1kg - 2.5kg - £5.75

2.6kg - 5kg - £6.50

5.01kg - 15kg - £8.00

Over 15kg - FREE

Click And Collect

Collection is available from one of the events we'll be attending.